This essay of mine originally appeared in the December, 2013 edition of San Diego Magazine.
When my dad enlisted in the Army at age 19 to join those who wanted to stop Hitler's march across Europe, he didn't get to see the big picture of his role in it. While some were sent to islands in the Pacific, or deserts in North Africa, or cities in Europe, he, a boy from Chicago, was sent to the Arctic Circle as part of a five-man station, where he and the others radioed weather reports every three hours,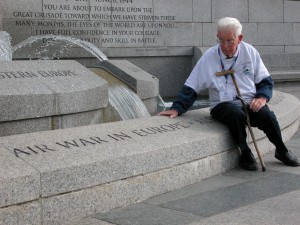 24 hours a day, for a year. That information gave the military a three-day lead time to know what the conditions would be like in Europe as they devised bombing raids.
Part of the time in the Arctic the temperature was 65 below zero (F), and it was dark 23 hours per day. Only three times did they get mail from home—it was dropped by parachute—and they couldn't send any out. Their family and friends had no idea where they were or whether they were safe. One of the men couldn't take it and he emotionally snapped. The soldiers sent him by dog sled 100 miles to the closest port where he could be picked up and shipped home. They traded cigarettes for ivory with the Eskimos, saw plenty of polar bears, seals, and walrus, and hoped the Army wouldn't forget them when the war was over.
Occasionally the aurora borealis, or northern lights, would knock out their ability to transmit signals. In what seems like a scene from the movies Gravity or 2001: A Space Odyssey, they would hear a disembodied voice asking, "Has anyone heard from WXAW [the Arctic station call letters]? WXAW, come in," and not be able to respond. For a week.
Share on Facebook
Tweet This Post