Dean Nelson is the founder and director of the journalism program at Point Loma Nazarene University in San Diego. He writes occasionally for the New York Times, the Boston Globe, San Diego Magazine, Westways, Sojourners, and several other national publications. He has won several awards from the Society of Professional Journalists for his reporting, and has written or co-written 14 books. Nelson is a frequent speaker at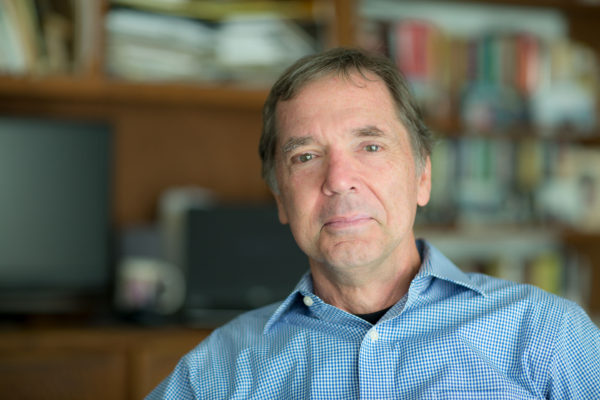 writing workshops and retreats.
He has traveled throughout the world covering stories of human interest — India, where he wrote about the slums of Bombay; Kosovo, where he interviewed and wrote about victims of terrorism; Tanzania, where he wrote about members of the Black Panther Party who live in exile; Tibet, where he wrote about religious persecution; Central America, where he wrote about poverty and contaminated water; New Orleans, where he wrote about the immediate aftermath of Hurricane Katrina; Haiti, where he wrote about the aftermath of the 2010 earthquake; Iceland, where he wrote about the literary scene there; Croatia, where he wrote about a part of Europe that is trying to reinvent itself after the breakup of the Soviet Union; Rome, where he wrote about the Canonization of Mother Teresa, and elsewhere.
He has covered the stunning, the moving, the mysterious, the tragic, the amusing and the absurd.
His 2019 book with HarperCollins is Talk To Me: How To Ask Better Questions, Get Better Answers, and Interview Anyone Like a Pro.
His book on the seven sacraments, God Hides in Plain Sight: How to Find the Sacred in a Chaotic World, was published by Brazos Press in 2009.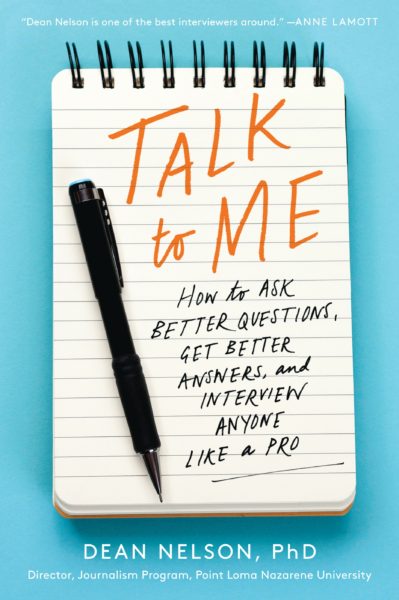 His book on the big questions of science and faith is Quantum Leap: How John Polkinghorne Found God in Science and Religion, published in 2011 by Lion-Hudson Press of Oxford, England. The book is about the life of John Polkinghorne, a world-famous physicist who became a priest in the Anglican Church. It is also about how faith and science do not need to be mutually exclusive.
In addition to directing the PLNU journalism program, Nelson also hosts the annual Writer's Symposium By The Sea, where prominent writers come to discuss the craft of writing. Nelson has interviewed Amy Tan, Anne Lamott, Kareem Abdul-Jabbar, Gay Talese, Krista Tippett, Rob Bell, Christian Wiman, E.J. Dionne, Deepak Chopra, Anchee Min, Ray Bradbury, George Plimpton, Joyce Carol Oates, Garrison Keillor, Billy Collins, Nikki Giovanni, Dick Enberg, Otis Chandler, Kathleen Norris, Donald Miller, Bill Moyers, Jim Wallis, Chitra Divakaruni, Joseph Wambaugh, James Fallows, Barbara Brown Taylor, Eugene Peterson, Philip Yancey, Michael Eric Dyson, Bill McKibben, Chris Hedges, Rachel Held Evans, Luis Urrea and dozens of others. Many of those interviews are available for viewing on this site and on UCSD-TV's website. They have been broadcast worldwide and downloaded or viewed more than 4 million times.
Nelson came to San Diego from Minneapolis, where he was working as a business writer.
He has a Ph.D. in journalism from Ohio University in Athens, Ohio, a master's degree in journalism from the University of Missouri at Columbia, and a bachelor's degree in literature from MidAmerica Nazarene University in Kansas City.
He grew up in Minnesota, is a die-hard hockey player and fan, is married to his college sweetheart, Marcia, and has two adult children, Blake and Vanessa.