PART III — last in a series
We didn't want to go to France. We wanted to spend a couple of hours in an Irish town called Cobh. Apparently there was more than one ferry in this place!
Once we explained that we wanted to remain in Ireland and were looking for a small river ferry, the attendant got out of her kiosk, lifted a gate and walked us to an exit lane. She told us where we wanted to be, and we were on our way again.
We found the river ferry, which could accommodate six cars (no passports required), and made it to Cobh. It's another beautiful waterfront city full of life and spectacular scenery. We walked through the Titanic museum (the Lusitaniaalso departed from
there – hmm. I think I'd find a new departure city if I were traveling by boat), climbed the hill to wander through St. Coleman's Cathedral, ate ice cream, drank coffee, and wondered why we had never heard of this city before.
Then it was back in the car for a drive to the area where all of my traveling friends said we must visit – the Dingle Peninsula. And of course they were right. Every turn on that narrow road produced another gasp from both of us – the rocks, the waves, the different shades of blue – light, dark, purple, navy, royal, powder  — were both in the sky and the water as it crashed toward the jagged rocks.
At one point we climbed a hill and walked into a pasture full of very calm sheep. At another point we explored one of the "bee hive" dwelling places of an ancient civilization.
This is the advantage of having a car instead of being bound to a bus schedule. When we wanted to climb a hill and look down on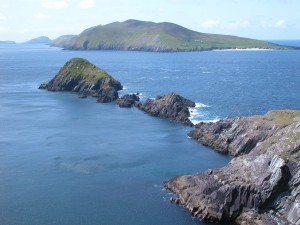 the waves crashing the coastline, we could. When we wanted to stop into a pub for some soup to warm us from the cold wind, we could. Wherever we stopped the people were friendly and helpful. They gave good advice on what to see, where to eat, what to avoid.
We spent a day taking in the sights of Dingle, then headed to another place our friends recommended. We wanted to hear some authentic Irish music, and we wanted to see the Aran Islands, so Doolin was next. For all that we had heard about Doolin, we were surprised at how tiny it was. A few streets had shops and restaurants, but that was it. There were a lot of new housing tracts, but the houses appeared to be empty. It was as if the village planners heard that a great expansion was coming, and got ready for it, but it never came.
Share on Facebook
Tweet This Post